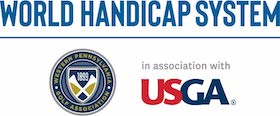 World Handicap System (WHS) Hub
---

Your resource for information and updates for the World Handicap System
The new World Handicap System will launch on January 1, 2020 and will be comprised of the Rules of Handicapping and Course Rating System. This Hub is to provide all information and updates for WHS.
Below are some key resources on the World Handicap System and its implementation in western Pennsylvania. Please feel free to use the published materials at your club or course to assist in education and awareness.
Documents
WHS – The 5 Things You Need to Know
WHS – Summary Chart
WHS – One Page Change Summaries
Rules of Handicapping – Effective January 2020
Infographics / Snackable Posters
WHS Map
Highlights of WHS
WHS - Top 5 Changes
Scores Acceptable for Handicap Purposes
Capping Excessive Increases in Handicap Index
Responsive Handicap Index Updates (Daily Revisions)
Exceptional Scores
Handicap Committee Review
Maximum Handicap Index
Maximum Hole Score for Handicap Purposes (Net Double Bogey)
Timely Submission of Scores
Playing Conditions Calculation (PCC)
Calculation of Playing Handicap
Video
WHS - Post Your Scores
WHS – Acceptable Scores
WHS – Soft and Hard Caps
WHS – Daily Revisions
WHS – Exceptional Scores
WHS – Handicap Review
WHS – Maximum Handicap
WHS – Net Double Bogey
WHS - Playing Conditions Calculation
WHS - Playing Handicap
Timeline / Implementation
The World Handicap System will launch on January 1, 2020. The final revision under the USGA Handicap System will be on December 15, 2019. At this time, please print all necessary reports that might be needed for future reference as these reports will no longer be available after December 31. There will be no revision on January 1, 2020, while GHIN goes offline for maintenance while the new platform is put into production for a launch on January 6 with the first revision of the World Handicap System.
Information and resources on the new GHIN platform can be found under "Launch 2020" on WPGA Product Support (Currently in maintenance - To be published on 12/31/19).
In January a package of information will be sent to each Member Club that will include a copy of the Rules of Handicapping and new Stroke Index Allocation tables for each rated set of tees to go along with the implementation of the World Handicap System.
As part of the rollout, the WPGA will be conducting five seminars throughout our jurisdiction to educate Handicap Committee Chairs, club staff, and the general public. Included in the Rules of Handicapping is a Club Authorization requirement that requires a member of the club, i.e. Handicap Committee Chair, to attend a workshop on the World Handicap System and pass a quiz showing proficiency.
Please contact the WPGA at any time with any questions or if you need assistance. We look forward to seeing you soon.